Jungle Chic at Be Tulum
Jungle chic might sound like a bit of a contradiction, but I can (almost) guarantee that once you get to know Be Tulum Beach & Spa Resort –  an exclusive five-star resort in the famous Mexican town that shares its name – you'll be demanding all of your future hotel stays fall into this style of accommodation too.
So what exactly is jungle chic? Think rustic paths with sand between your toes, surrounded by lush greenery and a whole lot of palm trees, all lit up with lanterns every night. Picture adult treehouses with wooden stairs leading to uber-stylish suites that look like huts. And a super-relaxed beach boho-vibe, where shoes are optional, and designer swimwear and kaftans reign supreme.
Basically, imagine the perfect luxury splash-out beach getaway destination, fit for a celebrity, and you have Be Tulum!
Because, seriously, how do you beat waking up to this view?
Daybeds dot the beachfront location, perfect for getting acquainted with the sea breeze. Nab your spot. Read. Relax. Order a beverage. Jump in the warm Caribbean Sea to refresh. And repeat. You're on holidays, after all 😉
Beachside is where it's at for food too, with the hotel's Maresias restaurant the epitome of literal toes-in-the-sand dining. Meaning 'sea bar', the beachside dining spot specialises in innovative ceviches, oysters, salads, and other fresh dishes. We enjoy breakfast, lunch, and dinner here over the course of our stay. In the name of research, obviously 😉  Service can be a little confused – some of our dishes don't arrive, for example, but the staff are all friendly and helpful.
For dinner on our first night, we settle in for a gorgeous evening under fairly lights. Dishes like marinated pork sirloin, and octopus marinated in tamarind definitely hit the spot.
When we swing by again the next morning for breakfast, the restaurant is buzzing with earlyrisers. Fruit, pastries, and juices, as well as selected dishes and smoothies, are included in the nightly rate for hotel guests.
One lunchtime, we taste-test the fish tacos, salmon tartare, and guacamole. Because when in Tulum…
Of course, all good beach getaways include a cocktail or two, and the upstairs bar is ideally situated to watch the beach colours change as the sun sets, while you sit with a Mezcal cocktail in hand.
One other thing to love about Be Tulum is its dedication to live music. From live DJs to bands and acoustic groups, there's a musical feel in the air that adds to the party atmosphere.
Beachside luxury and party vibes might be nice, but you want to know what jungle chic means when it comes to rooms, right? You won't be disappointed. Follow the jungle-lined path and head to one of 64 exclusive suites. Constructed with native materials, the exteriors blend in among the treetops.
Inside, limestone walls, wooden floorboards, and thatch features create a dark and mysterious vibe, while classic rugs and designer chairs give it a stylish edge.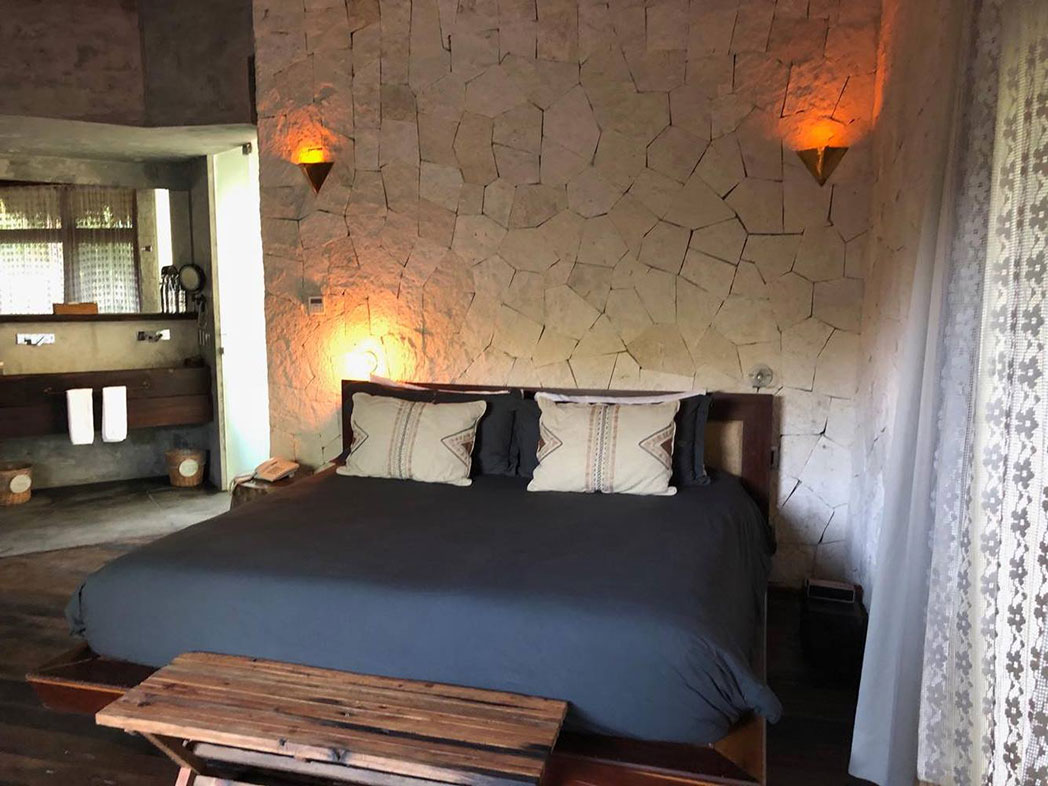 Air con is very welcome (albeit very noisy if you're a light sleeper), while modern touches like a powerpoint with a USB socket (for all your charging needs) right next to the bed and a sound system offer a little dose of tech.
It's the simple pleasures, though – like the option of an inside or an outside shower, beautiful toiletries, and a private balcony – that give Be Tulum's suites their wow-factor.
When beach/restaurant/cocktail life gets too much, stroll to nearby boutiques, or take out one of Be Tulum's complimentary bikes. With Yään Wellness Energy Spa located just across the road, there's also plenty of opportunity for pampering or getting in touch with your spiritual side. A 9am meditation class, conducted in a treehouse-style setting, sets the tone for the day – and the rest of our stay, actually. Tulum is hippie heaven.
And when you're done, hit the pool area. I can think of worse places to write this review 😉
👉🏼 Check out Be Tulum Beach & Spa Resort

👉🏼 Plan your own Mexico getaway
---
---
---